This week's Veteran feature is Maj. Pierce Winningham McKennon of Clarksville, who was shot down by flak on 2 different occasions during World War II & made it back to friendly lines both times. The Flying Ace also destroyed 20 German aircraft during WWII: https://youtu.be/dKF_rrejILg
I recently reported the State Treasury's investment earnings to the State Board of Finance for the second quarter of FY 2020.
Head over to my Facebook page to watch a video synopsis on the State of the Treasury: https://www.facebook.com/ARTreasurer/videos/1417760145092074/?__xts__[0]=68.ARDNiOKHXxIugI38P-55LM4JxsgVBIUOyo-cIEiVpc47GQIfB5fB-744GhstGWVDywEGjtd4aMfGUMuTX1Z0iUb63JcJoNweFDbhqmAOcGheegFiDr8X1zs4bRDd3gh1Avmm749dHNkM98-fZmzx_xG8PFWKreucRj5-7HE-pOqPlGYkzdOam1-7MkEV-nGohsEA2RRlSwkxlqkpjMp5si8gN2I7BoBONijb8bcE_cTZ8nPSMtCVGmtkBTOB9jsiZRhdNtdnGdfFDj3XzXZNU8c5LzKkWqfHOoxB2N57LkTUaLOPXCsbOCUKOTifEIe94cA7x4UgcxSIKFw47Nf6CSY7NmGbd9Rp8IgRbg&__tn__=-R
Today I had the privilege of meeting with the Arkansas Bankers Association at its regional meeting in Hot Springs. My staff and I gave an update on the Arkansas Treasury Transparency Auction program available to banks for certificates of deposit.
This week's Veteran feature is Sergeant Major Gary Lynn Martz of Batesville, who served for 33 years in the U.S. Army. He is highly decorated and served in Afghanistan & Iraq during Operations Southern Watch, Enduring Freedom & Iraqi Freedom.

https://youtu.be/usc5AQAWxqA
Colin Powell was the first African American to be appointed as United States Secretary of State. #BlackHistoryMonth
Twitter feed video.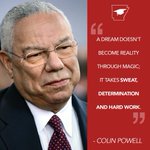 Read this great blog post: On Being a Smart Women Who's Smart About Money https://www.heatherdisarro.com/on-being-a-smart-women-whos-smart-about-money/ thank you @heathersdish for taking the first steps to get your personal finances in order—and for encouraging others to the rough your blog! @ARTreasurer http://www.swsmarkanasa.com